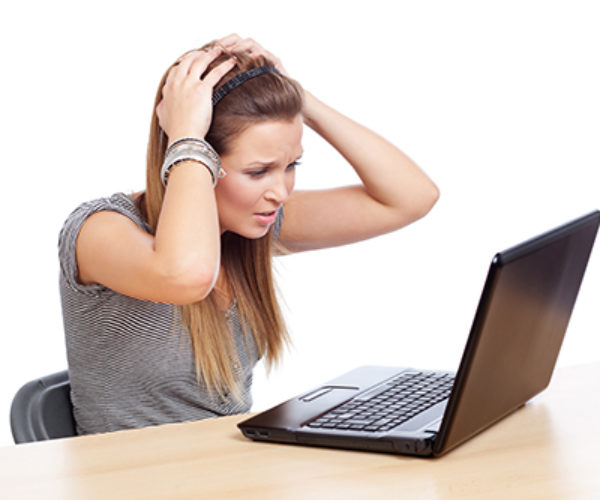 Did you know that 64 per cent of small business owners feel "overwhelmed" when it comes to technology?
It's not surprising though when you consider that many small business owners and entrepreneurs come from the corporate world where there is always an infrastructure of computing resources provided and IT support is only ever an email request away.
If you were working for a big company and found your mobile phone wasn't working, for example, then within a few hours you could have it fixed or replaced.
And any problems with a work laptop could be easily solved because your IT team could just 'remote' in to your device wherever you are and sort your issues out directly… usually within the space of an hour.
But once you leave the structure and support of the corporate world then you are suddenly on your own when it comes to IT.
Isolation
The fact is that a lot of small business owners feel isolated when it comes to tech issues.
If you are running a business and you are a coach, architect, accountant, solicitor or creative service provider then your essential skills will relate to the core services you provide. So it's natural that you focus primarily on making the most of your years of training and study, your expertise and experience.
But almost all contemporary small businesses and service providers rely to some extent on 'tech' to deliver all or part of what they offer their clients and customers.
So when your essential tech doesn't work or breaks down for any reason it can hamper you from delivering the great services you've worked so hard to be able to offer.
To invest or not to invest
So this is the crazy thing.
Business owners know that investing in tech is really important. But only 49 per cent of small business owners and entrepreneurs have it on their list as a key issue to address in 2016.
This is despite the fact that 98 per cent of business owners complain about feeling frustrated, anxious and overwhelmed when their tech breaks down.
The problem is that so many don't realise just how much they depend on their ability to use email, create slides for presentations, jump on Skype for a quick client chat or use software to run an online programme that is vital to their business. At least, they don't realise until the technologies they take for granted let them down.
When things go wrong in this way, business owners usually do one of these two things:
(a)    They put up with the problem because they don't have anyone to turn to and struggle for weeks with the issue getting more frustrated and allowing the tech problem to slow down their work
(b)   They quickly look for someone to fix their problem but soon find that there are so many people around offering IT services that it is difficult to know who to trust
And both of these scenarios involve giving your precious laptop away for at least a week if not two!
IT outsourcing
There has been a trend in recent years among small business owners and entrepreneurs to outsource their IT.
You might have spurned the corporate world in favour of being the manager of your own business but it doesn't mean that you can't have the same calibre of infrastructure around you.
Outsourcing your IT provides a stress free way of working and peace of mind knowing that someone is at the end of a telephone (not a robot) that can solve your technical issues.
Figures suggest that the number of new companies being created around the UK is on the up, with the government keen to encourage more and more entrepreneurs to setup businesses in Britain.
In fact, according to a think tank called the Centre for Entrepreneurs, there were more than half a million new companies created in 2014, with more than 600,000 expected to have been established when the figures are in for 2015.
How many of those businesses do you think will get frustrated with their IT? I suggest the majority of them will unless they have IT support.
Case Study
One of my clients is in the creative space and he acts as the 'go between' and the link between clients and designers in various situations. Often he is dealing with very large files and documents containing project plans and he also sends and receives a lot of emails.
He had been deliberating about whether or not to sign up to our Velocity package which is ideal for creatives. You get a super-fast laptop, business email, remote support and secure file and back up service – perfect for the type of work he deals with.
Finally, he decided to go for it and I can only say that he did so in the 'nick of time'.
The first thing we did was take a backup of his old laptop. He had saved a huge number of documents to his desktop (which he didn't back up) and put some but not all into Dropbox (which by the way is not a backup as it replaces the existing file as soon as you save the updated version).
He loved his new laptop and the speed at which programmes were responding to his command – gone was the sluggish email or the 15 minute waiting time for the old laptop to fire up.
Then the inevitable happened.
He couldn't remember what he'd done but a key project plan was gone. He called the office asking to speak to me but I was at a client site that day. A member of my team dealt with his call and 20 minutes later the document was restored and my client could breathe a sigh of relief.
On reflection he agreed that he had accidently deleted the document as he was trying to keep his desktop tidy and realised he had put the document in the 'trash' and then pressed delete! We helped him think through a system for saving his documents using 'the Cloud' which would help him avoid these problems in future.
Every small business and entrepreneur is different but they almost all require some degree of computer-related activity and quality IT support can help to ensure that computer problems are either avoided entirely or easily resolved, just as they would be if you worked for a big company.
So don't let a lack of tech support hamper your business in 2016 and figure out now how the right kind of computing can help improve your company's competitiveness.
Click here to find out more about TTG's Plug In & Go service for startups, entrepreneurs and small business owners.